Friends of Merrymeeting Bay's (FOMB) eighth presentation of their 23rd annual Winter Speaker Series: Wireless, Wildlife & You features Cece Doucette, writer and wireless educator. Doucette is standing in for author Blake Levitt, forced to cancel due to unforeseen circumstances. This event takes place in the Morrill Meeting Room of Curtis Memorial Library in Brunswick on Wednesday May 8th at 7pm.

In 2011 India's Ministry of Environment and Forest released their Report on Possible Impacts of Communication Towers on Wildlife Including Birds and Bees. The Ministry reviewed 919 studies and while their mandate was to report back on birds and bees, the report touches on other wildlife as well. Seventy-seven percent of the studies showed adverse impacts to birds from towers and their radiofrequency radiation emissions while only 11% found no impacts and 12% were inconclusive. Eighty-seven percent of studies showed bees suffering effects and 13% of studies showed no effect to bees. Sixty-two percent of studies showed effects on other wildlife, 5% showed zero effect and 33% were inconclusive. Eighty-eight percent of studies showed negative effects to plants while 12% were inconclusive.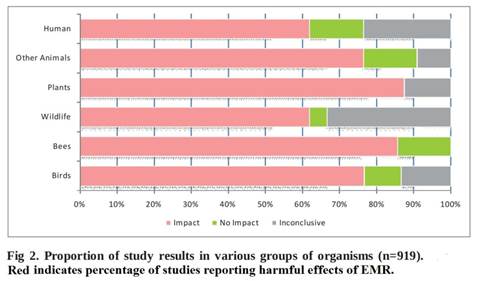 Many migratory species use magnetite in their heads to navigate with, sensing earth's electromagnetic fields. Merrymeeting Bay is the largest migratory waterfowl staging area in the U.S. north of Chesapeake Bay and our waterfowl migrations may well be adversely effected as birds become disoriented and possibly delayed or injured from rapidly rising ambient concentrations of electro-smog along their flyway. FOMB chair Ed Friedman, an environmental activist for 50 years, considers radiofrequency radiation from wireless proliferation the most significant toxics threat of our time with the latest iterations being smart electric meters, a worldwide race towards fifth generation wireless or 5G and the planned launching of thousands of satellites beaming non-ionizing radiation back to earth for internet access. The May 8th presentation will cover health effects of wireless technology, ways to access high technology in a safer fashion, how already threatened wildlife species are suffering from increasing man-made electromagnetic fields wireless technology effects on climate change and how 5G in particular will have disproportionate and likely devastating effects on insects and other small-bodied bird and bat pollinators.

A technical and professional writer by trade, Cecelia (Cece) Doucette ran many campaigns to bring technology into her local schools, much of it wireless. When she discovered wireless technology brings biological risks, Cece shifted her career to study the issue, educate the public and affect policy change. One difficult early conversation and outreach effort lead Ashland Public Schools in Massachusetts to become first in the nation to implement Best Practices for Mobile Devices. Next, Doucette worked to introduce legislation examining the plentiful non-industry funded international science on the subject and to protect public health on this issue. She also collaborated with the Massachusetts Department of Public Health to develop public health fact sheets in that state. See her research repository for details, Understanding EMFs: https://sites.google.com/site/understandingemfs/ma-emf-bills.

Cece is also a founder and Education Services Director with the international non-profit charity Wireless Education, which has distilled the independent scientific literature and medical advisories into affordable 30-minute on-line courses for Schools & Families and Corporate Safety Induction. See wirelesseducation.org. And, she is often called upon for presentations to school administrators, planning and health boards, building commissioners, parent groups and health professionals. Cece holds a Bachelor's degree in Communication Studies and a Master's in Technical and Professional Writing from Northeastern University.

FOMB hosts their Winter Speaker Series October-May, the second Wednesday of each month. This season there will be a bonus program on Thursday, May 30th when FOMB presents the Maine premiere of Killing Games~Wildlife in the Crosshairs, an award winning film by Project Coyote. The evening will feature Camilla Fox, Executive Director of Project Coyote.
Speaker Series presentations are free, open to the public and supported by Patagonia, Inc. in Freeport. Visit www.fomb.org to see speaker biographies, full event schedules, video recordings of past presentations, become a member, and learn more about how you can help protect beautiful Merrymeeting Bay. FOMB's Summer Outside Series begins June 1st with a wildlife photography workshop led by well- known photographer Mauricio Handler of Aquaterrafilms.
For more information contact FOMB at 207-666-3372 or edfomb@comcast.net.
---
Part 1