Friends of Merrymeeting Bay's (FOMB) second presentation of their 23nd annual Winter Speaker Series entitled "Bugs" of the Bay, features Dr. Hamish Greig, Associate Professor of Stream Ecology at UMO. This event takes place in the Morrill Meeting Room of Curtis Memorial Library in Brunswick on Wednesday November 13th at 7pm.
Freshwater tidal marshes are among the most unique but understudied freshwater habitats globally. This is especially true for the benthic invertebrates that scuttle around within the sediment and aquatic plants of these marshes. Dr. Greig will provide an overview of his research on the fascinating and diverse aquatic insect communities of Merrymeeting Bay's tidal freshwaters and the role that tidal hydrology plays in species distributions. He will also reveal discoveries of a dragonfly Species of Greatest Conservation Need not previously recorded in Sagadahoc County and discuss ideas for future research in the area.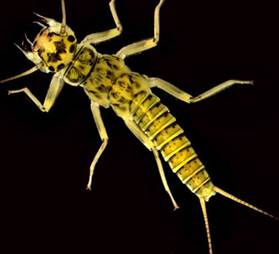 Example of an aquatic macroinvertebrate: Perlodid stonefly (Baumanella sp.). © David Buchwalter / NABS
Based on their sensitivity to pollutants, the presence of macroinvertebrates is one of the criteria contributing to the classification of Maine surface waters, in addition to dissolved oxygen and E.coli concentration. Research into macroinvertebrate assemblages therefore both identifies polluted waters and offers a protectable biological measure suitable for application of the Clean Water Act.
Greig's research group studies stream food webs supporting Atlantic salmon and brook trout, climate change in high elevation ponds, the links between Maine streams and their forested watersheds, and the insect diversity of some of Maine's weird and wonderful freshwaters.
Hamish Greig is an Associate Professor of Stream Ecology in the School of Biology and Ecology at the University of Maine. He studies how aquatic food webs respond to natural and human-induced disturbances. Hamish grew up in Christchurch, New Zealand, where he spent his childhood fossicking around in streams for aquatic insects and trying to catch large brown trout.
Greig completed his undergraduate and PhD degrees at the University of Canterbury in Christchurch, studying the insects and food webs of alpine ponds in New Zealand's Southern Alps and the Colorado Rockies. He then did postdoctoral research at the University of British Columbia, Canada, on the impacts of climate change and eutrophication on pond ecosystems before moving to Maine in 2013 to take up a position as an Assistant Professor of Stream Ecology.
FOMB hosts their Winter Speaker Series October-May, the second Wednesday of each month. The November 13th presentation, Meet Your District Forester features Shane Duigan, District Forester with the Maine Forest Service.
Speaker Series presentations are free, open to the public and supported by Patagonia, Inc. in Freeport. Visit www.fomb.org to see speaker biographies, full event schedules, recordings of past presentations, become a member, and learn more about how you can help protect beautiful Merrymeeting Bay.
For more information contact FOMB at 207-666-3372 or edfomb@comcast.net.
---
Bugs of the Bay on FOMB Server
---